What We Offer
Estate Planning
Estate Planning is the process of anticipating and arranging for the disposal of an estate. Estate planning typically attempts to eliminate uncertainties over the administration of a probate and maximize the value of the estate by reducing taxes and other expenses. Guardians are often designated for minor children and beneficiaries in incapacity.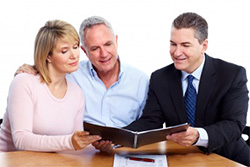 A will or testament is a legal declaration by which a person, the testator, names one or more persons to manage his/her estate and provides for the transfer of his property at death.
Wills
In the strictest sense, a "will" has historically been limited to real property while "testament" applies only to dispositions of personal property (thus giving rise to the popular title of the document as "Last Will and Testament"), though this distinction is seldom observed today.
Trusts
In order to expedite the process of transferring assets to intended beneficiaries, some people choose to arrange their property so that it can bypass the probate process upon their deaths. For example, placing property into a trust before death will often allow the accomplishment of the objectives of property distribution without coming under the jurisdiction of a court and the possible redistribution after a lengthy contested probate process and trial. Similarly, jointly held property, life insurance, annuities, 401K Retirement Plans or Individual Retirements Accounts will also avoid probate as these devices allow property to transfer to beneficiaries outside of probate process.
Special needs trusts are created to ensure that beneficiaries who are developmentally disabled or mentally ill can receive inheritances without losing access to essential government benefits.
Probate
Receipt of probate is the first step in the legal process of administering the estate of a deceased person, resolving all claims and distributing the deceased person's property under a will. A probate court (surrogate court) decides the legal validity of a testator's will and grants its approval by granting probate to the executor. The probated will becomes a legal document that may be enforced by the executor in the law-courts if necessary. A probate also officially appoints the executor (or personal representative), generally named in the will, as having legal power to dispose of the testator's assets in the manner specified in the will.
We're Here To Help
We can help you in Business Law, Real Estate Law, Foreclosure Defense and Reversal, Bankruptcy, Estate Planning, Wills, Trusts and Probate.
Our Attorneys are friendly and knowledgeable – providing consistently excellent communication with our clients.
The office is centrally located in Pasadena, California.
We offer after hours and weekend appointments for our clients.
Help is a phone call away. Contact us for free consultation.
Your private consultation is Free.