Professional Lawyers in Business and Real Estate Law, Bankruptcy and Estate Planning – Los Angeles, CA
Stephen R. Golden & Associates has over 100 years of collective legal experience. We are a progressive and aggressive Professional Law Corporation. Business and Real Estate Attorney Stephen R. Golden and his staff offer the highest level of representation for clients seeking help in the areas of Business Law, Real Estate Law, Bankruptcy, and Estate Planning, Wills, Trusts and Probate.
Position Opening: Litigation Lawyer

We invite applications for an experienced Litigation Lawyer. Please call (626) 584-7800 and ask for Habib Akl.
We take good care of our clients. We go out of our way to win for them. Their success stories say it all. Their honest opinions about us give us the endorsement on how good we do our job.
"Unless you're an attorney, the banks are going to take every advantage of you. You really do need to get representation. The trick and the key is to find the right kind of representation, because people that say they can help you are a dime and dozen now.
Because of the work that Mr. Golden did and his staff, we got the modification that we were seeking.
If things stayed as they are now, we're gonna be fine. It's a new lease on life, really."
They [the banks] try to make you give up. They continually try to tell you that there's no hope for you. "There's nothing on. Why don't you just leave? Just give us the house. Just give up all your dreams. Just give it up!"
… we were granted a loan modification. Stephen R. Golden got us a loan modification. I'm blessed. We're truly blessed.
This is our home, and it's a home, not just a house. Not just four walls. It's a home. Thank you for the chance to be able to keep it.
Video Testimonials
Business and Real Estate Attorney Stephen R. Golden is on KBRITE Christian TalkRadio 740AM where he discusses all things real estate, from buying a new home to refinancing, investing in the market to make a profit, and removing debt issues through home loan modifications, or various types of bankruptcies and credit restoration to get a new loan or refinance.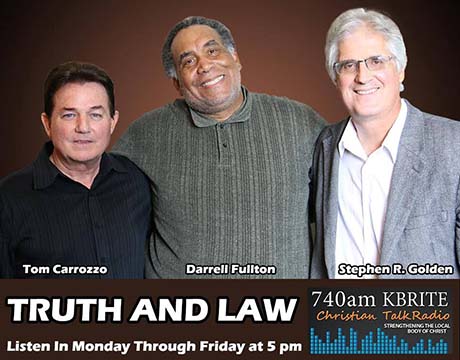 "Truth and Law"
Listen to Atty. Golden on KBRITE Christian TalkRadio 740AM,
Monday through Friday at 5:00 PM. Saturday at 12:00-1:00 PM and Sunday at 7:00-9:00 PM.
Learn the law. Know your rights as a homeowner.
Don't let the banks take advantage of you and your rights.
Let Atty. Golden give you the ammunition to FIGHT BACK!
Learn how to:


Save Your Home


Sue the Banks


Reverse A Foreclosure


Fight Harassment From Your Bank


Stay In Your Home
---
Recent Programs (Click to play):
Listen to Podcasts of previous radio programs:

Podcasts
To find out why banks can't legally foreclose on your home, listen to the March 2, 2014 show, "Chain of Title and Why It Matters".
To find out who we are and why we care, listen to the March 9, 2014 show, "Why Home Ownership?".
Important Tip:
If your bank won't give you a loan modification even though they promised to do so when we bailed them out, go nuclear. Take them to court and get a judgment that they have no right to foreclose and you stay in your home without paying the bank. For America's sake, help rid our country of these predatory dinosaurs that run and ruin our economy and control our politicians.

Recommended Reading
Ralph Nader's book, "Unstoppable", mirrors what Stephen R. Golden has been advocating in his radio program.
In his website, DickMorris.com, Dick Morris reviews the book and says, "Ralph Nader's new book may be the most important of the year. Unlike the usual beltway pundit, he grasps the essential nature of the joint outrage of liberals and conservatives at the crony capitalism that has gripped Washington under the likes of Bill Clinton, George W. Bush, and Barack Obama. While these three men differ on almost every issue, they are united in their subservient to Goldman Sachs, JP Morgan Chase, and the other titans of Wall Street."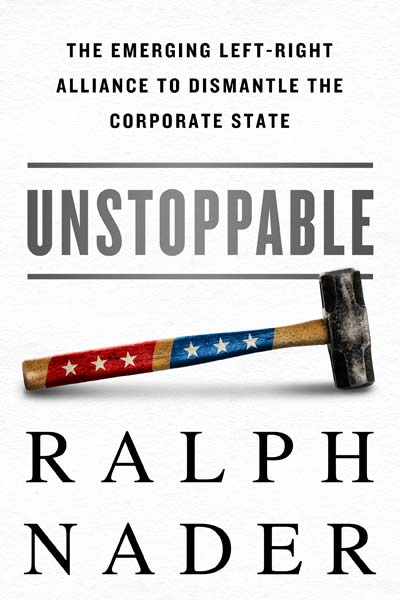 We're Here To Help

Visit us:
Stephen R. Golden & Associates
600 N Rosemead Blvd. Suite 100
Pasadena, CA 91107
We have a wide free parking area.

Call us:
(626) 584-7800

We can help you in Business Law, Real Estate Law, Foreclosure Defense and Reversal, Bankruptcy, Estate Planning, Wills, Trusts and Probate.
Our Attorneys are friendly and knowledgeable – providing consistently excellent communication with our clients.
Our office staff is courteous and relaxed. They speak English, Spanish, French, Armenian, Arabic, Farsi, Pilipino, and Italian.
The office is centrally located in Pasadena, California with extension offices in Oxnard and Corona, California.
We offer after hours and weekend appointments for our clients.
Help is a phone call away. Contact us for free consultation.
Your private consultation is Free.
Free Consultation

Send us a message:
Your personal information is secure and strictly confidential.
We will respond to your message soonest.
* These fields are required.
---